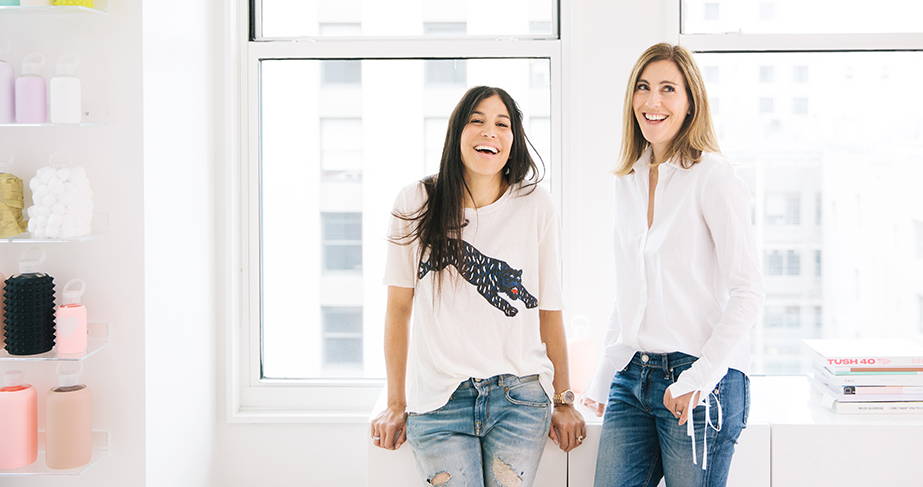 If you've never had one before it may be hard to believe this, but there really is something magical about bkr water bottles.
Inspired by all things glowing and glamorous and by the belief that the objects in your life should be loved, our glass water bottles breathe new life into the maxim of eight glasses a day, inspiring sippers to drink water like it's a special treat — and vastly improving their complexions along the way. That's why we have such a dedicated cult following of celebrities, influencers and insiders.
Our bkr girls (and guys) tell us all the time that they have an emotional attachment to their bkrs — that it's changed their lives, it's their favorite possession, they never knew how much they could love a water bottle, and, ultimately, that their skin looks better and they feel better. Which is pretty amazing.
A magical combination of things — the small mouth, the way it feels in your hand, the pure glass bottle with silicone sleeves inspired by contemporary art, fashion and culture — bkr is, simply put, just better.
To celebrate bkr's new website, we sat down with founders Tal and Kate — just kidding, we cornered them in their offices — and asked them why they started bkr.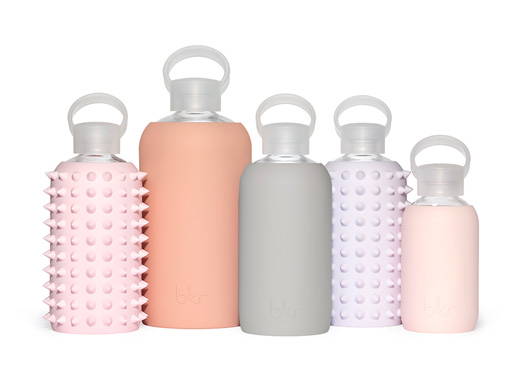 So why did you start bkr?
Tal: Both our moms have always had gorgeous skin and almost exclusively drank water our whole lives. They taught us early on that water is the foundation of an effective beauty regimen.
Kate: We've always known that to be true, but like everyone else at some point we found ourselves drinking from disposable plastic. It didn't make sense that people who care so much about what they eat and put into their bodies were essentially drinking from trash. We were into everything organic and natural, yet we were drinking out of chemical plastic. We couldn't find a reusable bottle we loved, and we didn't like the experience of drinking out of metal: it made water taste and smell awful, you couldn't see into it and you couldn't put it in the dishwasher.
"Our customers told us they were finally drinking enough water, their skin was glowing, and that bkr was a skincare game changer."
Tal: So we made exactly what we wanted: something beautiful, effortless, sheer, pure and chic — a designer water bottle that makes you instantly the most chic, hydrated and glowing person in the room, even in a t-shirt and jeans.
Kate: When we launched bkr, the most trendy water bottles on the market were basically colorful camping equipment made of metal or plastic. When we told people we were going to make a luxury reusable water bottle made of glass and that it would change everything, they thought we were crazy. And when we made a soft, solid sleeve out of silicone people told us they would be too plain and they had to have some sort of cutout design or they wouldn't catch on. We really didn't listen to that either.
Tal: We followed our gut and made the bottle we wanted to use that would replace our personal addiction to plastic. By just trusting ourselves and creating authentically, responsibly and with perfectionistic attention to detail, now over six years later we hear all the time that people love their bkrs so much that they haven't bought disposable bottles for years.
Why did you choose to position bkr as a beauty product?
Tal: As an entrepreneur, it's critical to determine where your product belongs. To do that, you need to know your customer and really understand what they love the most about your product and what core problem it solves in their lives.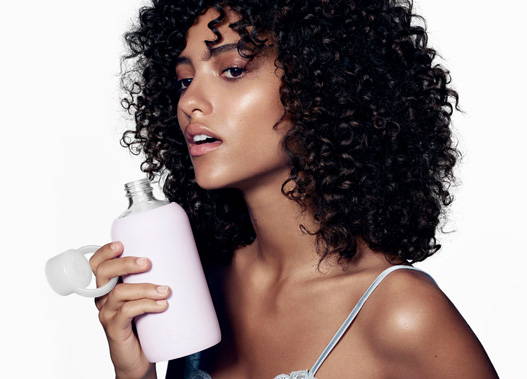 Kate: Our customers told us they were finally drinking enough water, their skin was glowing, and that bkr was a skincare game changer. And every beauty expert from dermatologists to makeup artists will tell you the key to flawless skin is hydration. You can spend a fortune on your face, but if you aren't drinking enough water there's no point.
Tal: Considering who our customers were, how they were using their bkrs, and why they loved them, it just made sense that beauty was where bkr belonged.
Why did you choose to work with glass and silicone?
Kate: Glass is better for your body and the earth. It's chemically inert; it doesn't alter the taste of its contents and doesn't allow any unsafe chemicals to leach and make you sick. And it's is a fully recyclable material. It can be recycled endlessly and recovered glass is used as the majority ingredient in new glass containers. And without question, everything tastes better out of glass.
Tal: bkr's silicone sleeve is perfectly soft and grippy —and non-toxic. It protects the glass, and is dishwasher safe, clean, beautiful, and minimal. Silicone is also 100% recyclable.
It's so important to steer clear of disposable plastic bottles. Most people have heard of BPA -- a plastic hardener, a synthetic estrogen, and a frankly terrifying chemical found in plastic water bottles. It's an endocrine disrupter that leaches from plastic into our food and drinks. It's been linked to a ton of health problems including an increased risk of cancer, obesity, early onset puberty, diabetes and has been linked to skin conditions like melasma or deep discoloration. Plastic hardeners eat away at your teeth too.
Kate: Basically it's making us sick, ugly and fat. It's also been shown to affect fertility — and brain and behavioral development in children. Pretty awful all around.
Tal: Plastic is in many cases necessary and unavoidable, but you don't have to marinate your water in it. So don't. bkrs are BPA-free water bottles — they're also phthalate-free, vegan, cruelty-free and made responsibly.
What's next for bkr?
Tal: We want to continue to take risks, create outside of our comfort zone, not play anything safe, and give our diehard fans reasons to love us even more.